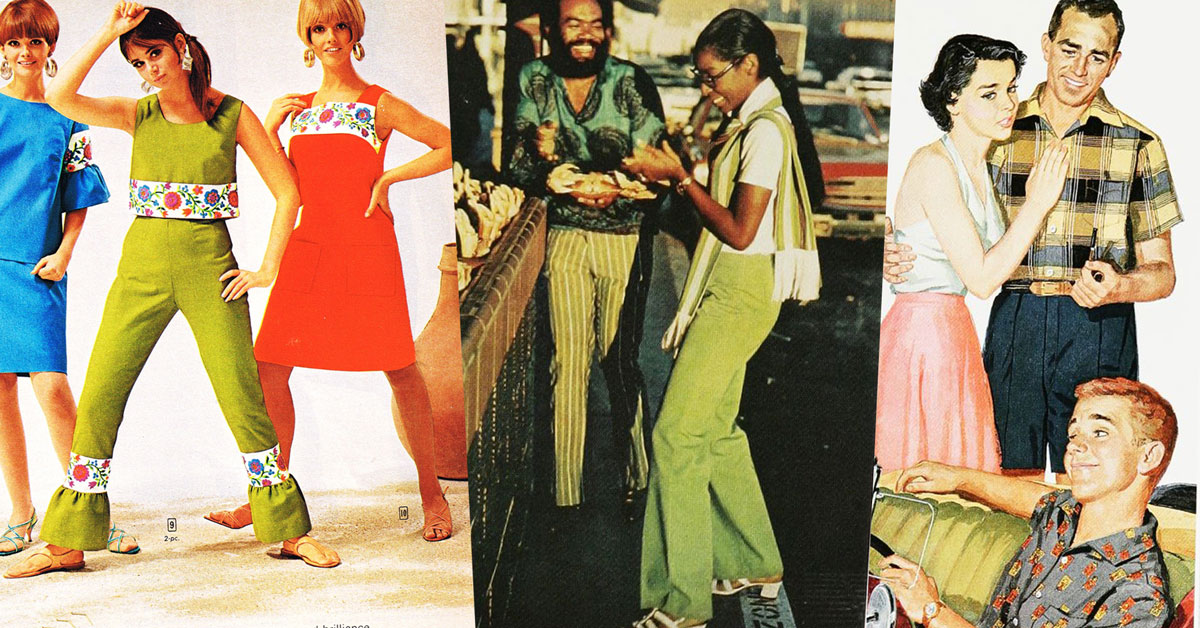 The connection between fashion and interior design is undeniable – both are artistic expressions influenced by everything from pop culture to politics. But how does what's hot on the runway influence the design of your bathroom (and vice versa?). We've investigated by taking a look back over the decades (check out our blog post 100 Years of Bathrooms for more on the history of bathroom design).
50's Postwar Luxury 
The post-war fifties saw the rise of opulent design – in fashion and interiors. High society sported opera gloves, fur stoles and tennis style diamond jewellery on extravagant nights out, while more accessible wardrobe staples included tailored suits and a good quality trench coat. Neutral tones (creams, blushes, black and white) and conservative fashion "rules" (it was taboo for women to wear pants, for example) defined the era. The post-war desire for luxury extended to interior design. Pre-war, the bathroom was a practical space designed for function and efficiency. In the 50's, the bathroom became a space to decorate with the same care as any other room in the house. With an emphasis on using soft, pastel colours and new material (think shiny metallics and glossy, Formica countertops), the quintessential 50's bathroom was pretty in pink.
60s Striking Silhouettes 
In the 60s, both fashion and interior designers began to explore shape and colour. Yellows, pinks, greens and blues were incorporated into both clothing and interior design. Fashion designers played with shapes by experimenting with different silhouettes- chunky-heeled go-go boots, fit-and-flare and A-line mod dresses, mini-skirts and narrow kitten heels were all the rage. Women started casually wearing pants! Mini-skirts soared to popularity! The 60's was a decade of boundary testing in both fashion and design, and this exploration of shapes and colours was also reflected in the bathroom. Deep pink and green tiling was popular in the 60's- while complimentary, this colour scheme is far bolder than the muted neutrals of decades prior. The shape of various bathroom fixtures became more sculptural and aesthetic. Bathtubs and toilets were produced from a variety of materials and took on a more stylized appearance than the functional post-war bathroom. In terms of design, the 60's set the stage for the 70's to come: a decade of wild, rainbow-hued fashion and spectacularly creative interior design.
70's Flower Power
Both fashion and design exploded with artistic expression in the 70's. Bolstered by pop culture's evocative, playful shift away from the conservative confines of previous decades, the 70's saw the rise of bold, colourful fashion and conceptual interior design. Style icons of the decade, like Cher, oscillated between free flowing, suede, fringe hippie ensembles to Studio 54, shiny, disco glamour. There were no off limit colours or shapes – from floral skin-tight suits to wide-legged bell bottoms, the 70's saw it all. The fabrics that defined the fashion of the decade papered the walls of many people's homes and bathrooms. Eclectic wallpaper and curated bathrooms were in vogue – from all-wooden themes to sunken, spaceship-esque floors, nothing was off limits with interior design (and orange was the colour for bathroom tiling… from carpet to tiling!)
80's Excess
Somehow the 80's managed to upstage even the 70's in terms of glitz and glamour. Fashion icons sported a range of very 80's styles – from Princess Diana's shoulder padded suits to Madonna's layered punk-rock looks to Jane Fonda's rainbow coloured, spandex athleisure, the decade saw it all. 80's interiors were no different from fashion in their over-the-top textures, fabrics and colour palettes. While some bathrooms took on a Molly Ringwald chintz (think overstuffed throw pillows and thick floral curtains), others exemplified the wealth and excess of Wall Street with lots of, well, everything – more plants, bigger bathtubs, more expensive materials.
90's Grunge & Supermodel Chic
When you think of 90's fashion, you think of the "It" crowd who ruled the decade. From Kate Moss and Johnny Depp's perfectly lived-in looks (faded leather jackets and Levi's 501s) to Gwyneth Paltrow's Hollywood-chic slip dresses, the 90's embodied easy, evergreen dressing. With the rise of the supermodel, fashion became more entwined with pop culture than ever before – and as effortlessly cool, grunge people and pieces walked the runways, interior designers took note. Bathrooms took on the deep maroons and greys seen in fashion and makeup (like a classic smoky eye and 90's lip), and bathroom fixtures (such as the red tub pictured) were heavy and dramatic, seemingly built into gauzy marble.
2000's Y2K – 2020's: What's Old is New Again
To the abject horror of anyone who remembers the decade, the 2000s are back in all of their original glory. Low rise jeans, bedazzled denim, sparkly hair accessories, trucker hats and ribbed tank tops are simultaneously reminiscent of 20 years ago and are very of-the-moment. Luckily, the evolution of the bathroom has outpaced the cycle of fashion. In 2021, the ideal bathroom is a minimalist's dream – sparse, neutral and bright, the modern bathroom lets in tons of natural light and keeps things bright with backlit lighting and touches of gleaming marble and metallics.
For the average homeowner, marble may be slightly out of reach, but modern, luxury living doesn't have to be. Ditch the trends of previous decades and explore your unique design vision at TUBS!
At TUBS, we offer high-quality bathroom fixtures and furnishings to turn your bathroom into a serene space – with all the high-tech furnishings you're looking for. With TUBS360's virtual shopping and design experience, you can browse the showroom virtually from the comfort of your home. Book a free 1hr consultation with a Brand Ambassador and connect via Zoom, or come by the showroom in person, where you can touch and feel products in store. Taking inspiration from the decades (maybe skip the 80's?), you can customize your bathroom to reflect your 21st century design vision.  Our incredibly knowledgeable staff can guide you through your renovation, from the plumbing to the design aesthetic. In 2021, your options are limitless.