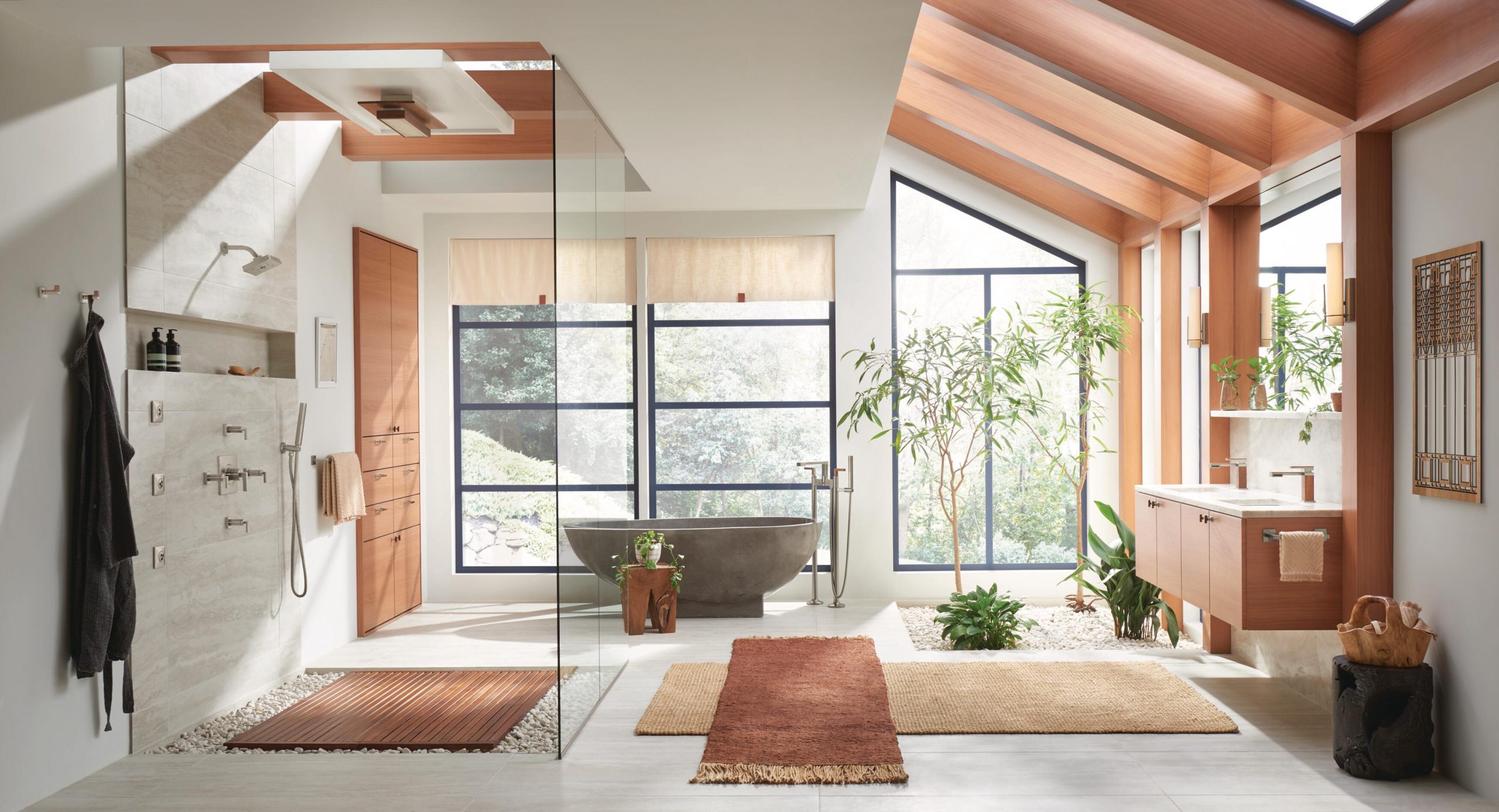 Named after an ancient Greek goddess, Brizo crafts luxury faucet collections for the kitchen and bathroom, merging modern design with a timeless quality. Distributed by Masco, which has housed a collection of innovative brands for over 100 years, Brizo is an innovative leader in the realm of design. 
Brizo produces luxury fittings for those who understand that fashion isn't merely about the clothes they wear — but about their entire lifestyle. With distinctive designs, Brizo doesn't only complete rooms but inspires spaces. They believe that form is nothing without function, which is why Brizo is always seeking to improve their products —- and, in doing so, improve the entire bath experience. Their innovative range of bathroom technology is constantly pushing the limits on design and craftsmanship — like their H2OKinetic Technology, their SmartTouch Technology, and more.
Brizo's H2Okinetic Technology is the study of water in motion. By controlling water's shape, velocity and thermal dynamics, Brizo has reinvented how one showers — creating a warmer, more luxurious spray that gives the feeling of a high-flow shower with a fraction of the water. 
Brizo's unique shower experiences are created by harnessing the natural energy of water and directing it through specially engineered chambers in the showerhead. Each channel is designed to create a vortex that oscillates and sculpts water as it exits, creating a wave pattern that provides a dense, concentrated spray. Combined with larger water droplets — designed to replicate those found in a tropical rainforest — the result is a warmer, more indulgent shower. 
For those seeking a more "hands-off" experience — Brizo's revolutionary SmartTouch Technology, SmartTouchPlus, is the right choice for your bathroom and the perfect pair to their innovative shower technology. SmartTouchPlus allows for both hands-free and touch-sensitive operation, where the flow of water is activated when hands are anywhere within 4″ of the faucet — giving you a renewed sense of convenience and control. 
Additionally, this technology can be combined with Brizo's TempIQ Control Technology, which maintains a consistent water temperature with no sudden changes — allowing for a smooth, streamlined water experience; complete with no surprises. The technology senses the water temperature before it leaves the spout and works to adjust the hot and cold water mixture continually.
Available in TUBS and t2h showrooms, Brizo products are more than just fittings — they've inspired art pieces. Brizo's bathroom technology is constantly pushing the limits of the bathroom renovation world. With ground-breaking additions to the bathroom, Brizo is the best choice for a bathroom that is just as beautiful as it is functional. 
Book a free one-hour consultation with a TUBS brand ambassador via Zoom today to learn more about how to incorporate the collection into your space.