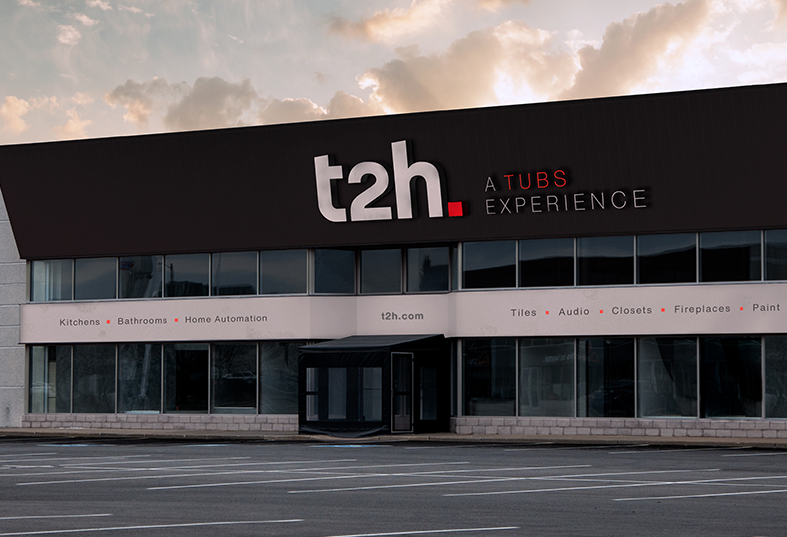 TUBS' exciting dream of expanding into the entire home automation and renovation space with t2h has recently become a reality. Although our stores are still open, if you haven't had the chance to visit one of our locations around the GTA, we've broken down all of the exciting elements that t2h has to offer! 
The Experience
T2h is more than just a storefront. It's a collaborative, dynamic space, and shopping experience designed with your comfort and ease in mind. From the state-of-the-art showroom (that you can tour virtually) to the Concierge who can guide you through the t2h experience, the space is equipped with everything you need and has been designed thoughtfully for highly curated shopping. The t2h space also features a lifestyle condo where you can interact with all of the products and furnishings offered by our brand partners (while imagining them all in your own space. And while you're shopping, why not stop by the cafe for a coffee and a croissant?
Home Automation
Move over Alexa — with t2h, the variety of smart home options are varied to meet your unique home-outfitting needs. From sound systems that can blast music from all corners of the house to security devices in place for your safety and comfort, t2h offers the most efficient and effective AI technology.
Kitchens
T2h only offers the highest quality for kitchen appliances, products, and fixtures. From top-of-the-line brands like Aquabrass to Riobel, t2h's brand partners are dedicated to product quality, efficacy and aesthetic. With t2h, your next kitchen upgrade is guaranteed to make your home more liveable without sacrificing style or design. From Riobel's Azure Collection touchless kitchen faucet or Aquabrass's MB2 Collection, t2h features products that intersect luxury aesthetics with practical efficacy. 
Tiles & Flooring
With brand partners like Ceramica Rondine and FAP Ceramiche offering luxury Italian tiling, t2h is your one-stop-shop for your next home renovation. Looking to freshen up your bathroom or spruce up your space? Explore the variety of luxury tiling options that t2h has to offer for an aesthetic home upgrade. 
If you're looking to upgrade your space with a clean, fresh finish, consider FAP Ceramiche's  Marble-effect tiles. Made with porcelain but designed to mirror marble's sleek texture, they're a timeless addition to your home.
Fireplaces
To spare yourself the hassle of a manual fireplace, consider one of t2h's chic electric options. Like the Dimplex Opti-Myst Series Built in Electric Fireplace, which you can install as a single-sided unit or simply remove the back to make the fireplace's cozy vibes front and centre in your space. Bonus: you won't be able to tell the difference and there are no wooden logs required. 
Whether you're looking to refresh your space for the new year or you're craving a total redecoration, t2h offers an extensive selection of high-quality products. To explore the range of options that t2h can provide for your home's upgrade, visit us in-store at our Vaughan or Etobicoke locations to speak with a Brand Ambassador, or book a virtual consultation on TUBS 360.