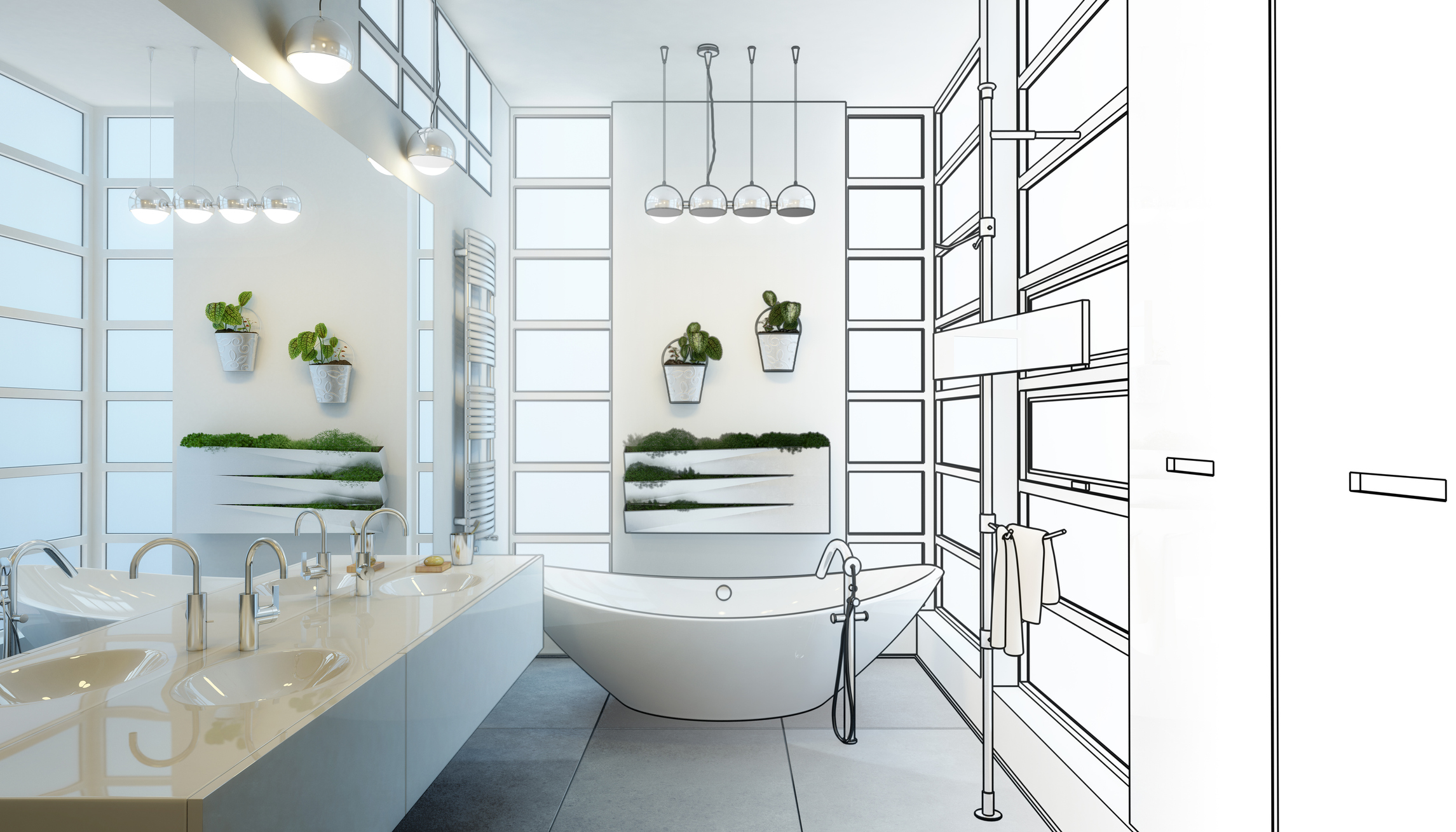 Bathroom renovations can bring you one step closer to having your dream home, but they can also be overwhelming. There are a lot of moving parts to a renovation, like sketching out a plan, buying the appliances, finding a contractor, and adding the perfect finishing touches. It's no wonder people often end up overwhelmed, frustrated and with a bathroom that isn't exactly what they envisioned.
At TUBS, we know how hard planning and executing a renovation can be. We've had many customers who have trouble getting started with the project due to all the moving parts and customers who have started and aren't quite sure how to finish. For many years, we've been known for our support and guidance from inception to delivery. We aren't going to let the pandemic keep our clients from getting the experience they're used to, so we've made it even easier for you to begin and end your entire renovation process right from the comfort of your home with TUBS 360!
Step 1: Find Inspiration for Your Bathroom Renovation
Executing the perfect renovation begins with having a clear vision. You need to know exactly what you like; whether it be heated floors and gold finishes or marble tiling and glass shower doors. For inspiration, begin by browsing our Instagram or Facebook pages, where we continuously post the latest and most luxurious bathroom renovations from our premier partners. Our social media captions will give you insight about the pieces, including which partner produces each product, and where it can be found on our website.
Once you have a good idea of the styles you like, visit our TUBS 360 Virtual Discovery Showroom, which is an exact digital scan of our flagship Etobicoke showroom. This is virtually accessible to you 24/7 and will give insight into all of our products and our premier partner boutiques, so you can get a better idea of what you like.
Step 2: Plan for Your Bathroom Renovation
At TUBS, our customers are used to the hands on approach that our dedicated brand ambassadors bring to each experience. While the pandemic has made it impossible for us to help you in person, we've made sure to still bring that understanding, patience, and support to you whenever you need it, virtually. Once you have a clear idea of your vision, you can book a 360 Complimentary Design Experience, where a brand ambassador will schedule a Zoom call with you as early as the next day. Here, our brand ambassador will bring you on a guided walkthrough of our 360 Virtual Discovery Showroom, where they can help pick out the exact products to complete your vision. When the session is complete, we'll have prepared a curated list of items for you, including preferred pricing from our premier partners.
If you're still feeling like you need more support for your renovation, we haven't left you hanging! Our 360 Premium Design Experience is a series of three Zoom sessions with a professional design consultant, who will handle the tricky details like creating renderings and planning the layout of your space.
Here, our design consultant will help you get the correct measurements of your space in order to ensure you are choosing the perfect products. From there, they will review your inspiration again and give you even more in depth recommendations for products, down to the finish of your faucet. Once they have the exact idea of what products you love and will work in your space, they'll create a 3D rendering so that you know what the finished renovation will look like. This is a crucial step in the project, as the fixtures you loved in store may look different in your own space and seeing it will help you gain an even clearer idea of how you'd like your renovation to turn out. Our design consultants will even help you pick the perfect shade of paint.
Once you've chosen all your products and seen the rendering of your space, our design consultant will present you with a comprehensive portfolio that includes the renderings, measurements, product details, and more. This way, you won't have to worry about little details when your renovation begins, as the portfolio is specifically made to be given to a contractor so that they have all the correct information to begin and complete the process.
If you've never worked with a contractor before and are feeling overwhelmed about finding one, we've got that covered as well. For us, customer satisfaction means feeling as though you can step back and let us handle everything from start to finish, and we've worked hard to make sure you can feel that way still, without ever leaving your home.
And That's It!
With TUBS 360, you can let out a big sigh of relief. We've taken the burden out of the process for you by providing you with all the support you'll need throughout your renovation. Begin your journey today by visiting our Instagram or Facebook, our 360 Virtual Design Showroom, and booking a 360 Complimentary Design Experience. Happy renovating!