PierDeco is an esteemed leader in the high-end bathroom space, bringing a new level of excellence and innovation to our t2h Experience Centres. With over thirty years of experience in the high-end bathroom sphere, the design and quality of each PierDeco product is of the highest standard. With their luxury brands Palazzani (a forerunner of Italian faucet design since 1960) and Aquamobilia (a contemporary vanity unit and bathroom fixture designer), PierDeco has its finger on the pulse of high-end bathroom trends, offering impeccably designed products for the luxury consumer. 
PierDeco's designers seek to meld the benefits of the spa with the individuality of the home. With PierDeco's Canadian or Italian shower columns, you can reap the benefits of a high-quality spa experience within the craftsmanship of your custom design vision. A part of luxury living is taking care of yourself and treating yourself to the finer comforts in life – and at the top of our list is the relaxing powers of a massage. PierDeco's showers are constructed to recreate the massage experience (with the added benefit of warm water pressure), soothing your muscles and mind after a long day. From massage-jets to adjustable shower heads, the scope of PierDeco's vision (while retaining thoughtful attention to detail) surpasses the peak of industry.PierDeco caters to the consumer who values quantity over quality and prioritises wellness. If you're looking to incorporate luxury living into your daily life, recalibrating your bathroom to foster relaxation and a sense of calm is key. 
As you evaluate your bathroom design, consider incorporating Pallazani's Mis Color Kit 1-XX Palazzani Ensembles shower kit. With it's idyllic pressure balance, this shower kit will truly elevate your shower experience and relaxation routine to boost your overall wellness.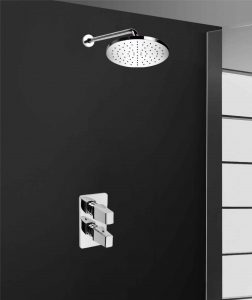 As a proud retailer of PierDeco, we are excited to welcome you to explore our extensive collection of PierDeco products and fixtures at their Premier Partner boutiques, which can be found at any of our TUBS locations. Come visit us today in-store (or online!) to see how these luxury products can integrate into your next home renovation.