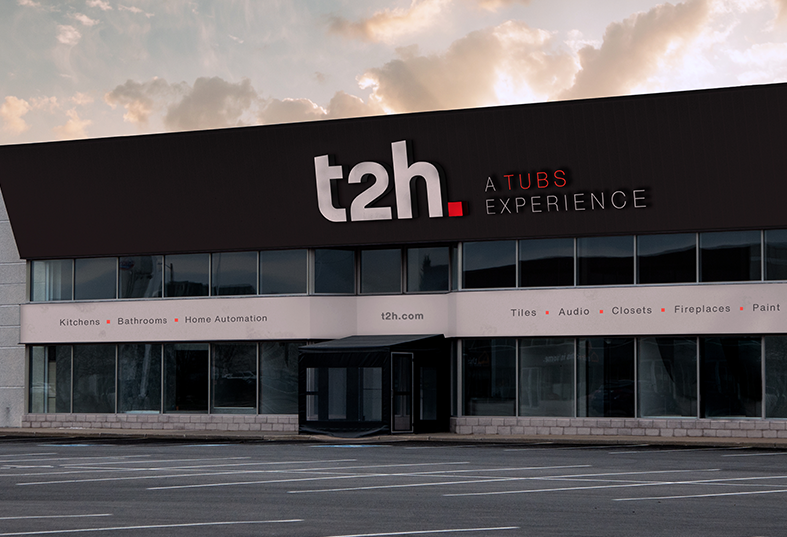 We don't know about you, but if we have to spend one more work day at home we're going to lose it. Thank goodness we're at the point in the pandemic when we can safely transition back to in-person workspaces. In celebration of this, we decided to create our dream collaborative workspace at t2h, housing all of your design solution needs under one roof (literally! We love being able to say that). Below, we've outlined all of the amazing features and amenities that our hub offers (and we hope you come on by). 
1. Teamwork makes the dream work
One of the advantages of our in-person collective is the breadth of design solutions that our collaborative workspace offers. At our t2h Experience Centre, we have in-store designers to offer support and provide resources on your design journey. 
Our Experience Centre also hosts in-person contractors who are equipped to help you execute your vision. And we can't forget to mention our brand ambassadors, whose knowledge, insight and expertise anchors the t2h in-person experience. Our brand ambassadors are an extension of the t2h brand, able to answer any questions that you may have. From product recommendations to design specifications to t2h specific inquiries, our brand ambassadors are happy to help. 
With the brightest design-minded team members working together in one space, we're confident that your project efficiency will be unmatched. 
2. Accessible Resources
Think of our Experience Centre as your one-stop shop for design innovation: from an exceptional, collaborative team of in-house contractors, designers and brand ambassadors to our physical on-site resources, like our product specification handbooks. If you're craving a luxe, tactile experience, come by and peruse our collection of information-packed, beautifully bound handbooks that will make you feel like you're touring a gallery or browsing a bookstore. 
3. Treats, amenities and perks, oh my!
We saved the best for last. Did we mention that our t2h Experience Centre offers an in-house cafe? It's like a Parisian product experience: you can sip a cappuccino and pick at a croissant while pouring over design books (although please, wipe your hands before you flip the page Thank You very much) and walk with a coffee in hand as you tour the space. 
Collaboration lies at the centre of the t2h vision, which is why we've optimized our space for designers, contractors, home owners, and custom home builders to work together and learn from each other. Come visit our t2h Etobicoke or Vaughan Experience Centres to explore our vision, and follow us on Instagram for exclusive updates on our renovation progress.