The past year has been challenging, to say the least. From a global pandemic to a complete upheaval of our work and social lives, nothing feels more comforting than a long, serene, and luxurious bath. 
The best part is, you don't need to book a boutique hotel or disappear to a spa every weekend to enjoy an indulgent bath experience because, with TUBS, you can create one every day from the comfort of your home. And beyond just relaxation, tubs are a practical investment for your space. This article will help you determine why incorporating one into your next renovation is a great idea.
A Bathtub Can Function as a Statement Piece
In an Interview with Architectural Digest, actor Ryan Murphy says that the inspiration behind his grande tub was architect Stephan Shadley, who told him that "grand gestures help focus and declutter a space." Having a large, unique, and interesting tub in your bathroom will function as a centrepiece for the rest of the room. 
To create this "grand gesture", look for a deep-set tub in a colour that is bold but feels comfortable to you. At TUBS, we are proud to carry House of Rohl's line of completely customizable tubs. Available in any finish you want, our TUBS brand ambassadors will help you pick a piece that's sure to make a statement.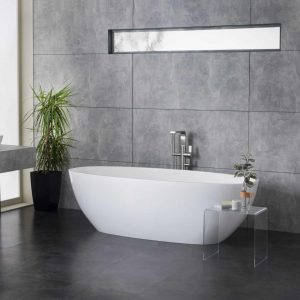 A Bathtub May Improve the Resale Value of Your Space
When it comes time to part ways with your current home, having a bathtub may actually increase your resale value. The National Association of Realtors says that a bathtub is an important fixture in your home, as it functions as an additional commodity—and the homes with the most commodities (or amenities) are the most popular. 
A survey done by the National Association of Home Builders found that in 2018, 70% of millennials have a preference for whirlpool baths. This is a huge chunk of potential buyers, so it's a good idea to keep their preferences in mind when calculating your potential return on investment. 
A Bathtub is the Best Place to Relax
As we mentioned before, it's been a long year, so you deserve the peace and quiet of a long, indulgent bath. There's no other place in your home that can match the comfort and experience that a bath can provide you with. 
At TUBS, our selection of bathtubs are engineered with you in mind. You won't need to worry about not having enough space to stretch out, or an intolerable headrest. Our Vida Rhine Acrylic Freestanding Bathtub is made from double-layer acrylic and includes a single headrest, so you can lay back in peace. 
We've got the rest covered, too. With our large selection of curated accessories, you'll be able to sit back, have a glass of wine, and read your favourite book without ever having to leave the tub.
Now that you're convinced that a bathtub is a vital part of your next renovation, let our TUBS brand ambassadors do the rest of the work for you by booking a complimentary consultation on our TUBS 360 platform. One of our brand ambassadors will be able to take a deep dive into your vision and help you find the best tub for your space, budget, and comfort.