The end of fall is fast approaching, but with the ongoing pandemic outdoor entertainment will likely extend well into the colder months. With that in mind, we've compiled the perfect pairing guide to fall-season dinner parties. 
Hosting small gatherings at your home should be joyful and the meal prep should be easy. With our premiere partner Urban Bonfire's line of classic grill stations and customizable outdoor kitchen units, we'll meet your outdoor entertaining needs. We've highlighted Urban Bonfire's innovative accessories and central stations, doing the legwork of prepping a menu for you by pairing each outdoor kitchen component with a perfect fall-weather dish. Dive into our guide below!
Cocktails & Appetizers at the Kitchen Counter
You want your outdoor dining area to feel breezy, open and fluid – blending into the rest of your outdoor kitchen space without any awkward, moving parts (like clunky dining tables or uncomfortable chairs). Urban Bonfire's customizable outdoor kitchens feature streamlined dining space that make sense – you can pull up a bar stool and sit down to appetizers that are being prepped right at the counter. We'd recommend sipping a cocktail or a glass of wine while you do because, well, why not (it's within reach after all – you can keep your drinks cold in the minifridge). 
Pair with: twists on classic fondue – like Coq-au-vin fondue, Thai style fondue and Italian fondue (um, yum!) for your next outdoor party! They're sure to be a crowd pleaser, and you can make the most of your outdoor kitchen space by doing the minimal prep-work required around your guests (rather than being cooped up in the kitchen).
Spice up Your Snacks with Urban Bonfire's Countertop Garden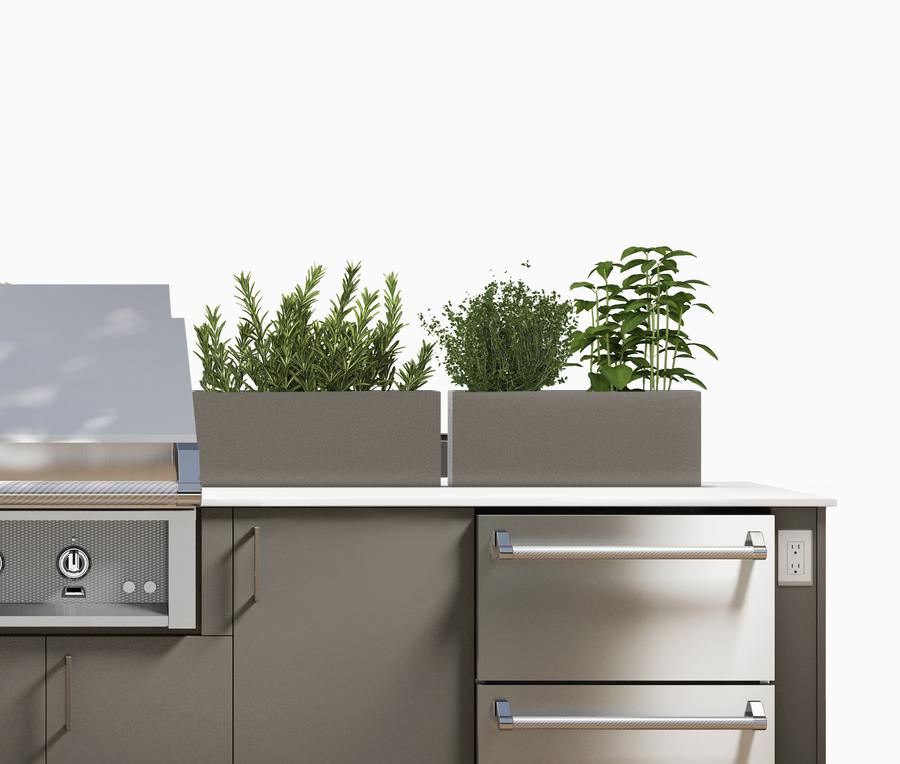 Why not incorporate a little greenery into your outdoor kitchen by adding a miniature garden to your countertop? With Urban Bonfire's countertop planters, you can maximize your space by having fresh herbs and greens at the ready during the warmer months. So while you're sipping cocktails and enjoying appetizers with friends, you can spruce up their snacks with some fresh herbs (and your drink with a sprig of mint!). As it gets cooler, you can swap out plants for artificial flowers and greenery to keep your space looking fresh.
Pair with: your new countertop garden with a jar of these quick pickles – add some garden-fresh dill and you've got yourself an easy cooking snack (this is a mandatory component of hosting: you must make yourself a crunchy snack to enjoy while prepping dinner, sorry we don't make the rules!)
Multi-task Mealtime with a Side Stove & Grill
Why limit yourself to solely grilling the main course on a BBQ when you could have a side stove for extra cooking space? Urban Bonfire's grill station units – like their Boreal 36 model with a two-burner side stove – meet all of your outdoor cooking needs, easily. You can also customize your outdoor kitchen space to meet any and all of your unique hosting needs (check out this space-savvy custom L-shaped model!)
Pair with: these low maintenance steak tacos. Bonus: while you're grilling steak on the BBQ, you can warm the tortillas on the side stove burner. Win win.
Dessert with a Side of Storage
Yes, putting away dishes, equipment and cutlery after serving an outdoor-party worthy meal can be a major pain when you're short on storage. Did the corkscrew grow a pair of legs and magically walk away? Luckily, Urban Bonfire prevents clutter and disorganization before it can happen, with chill, no-brainer storage (think open shelving for glasses and plates and deep cupboard space for larger equipment). You'll save so much time on clean-up that you can whip this seasonal, nostalgic take on a slice of apple pie with a scoop of vanilla ice cream. Your guests will thank you (but let's be real, it's really for you). 
Looking to upgrade your outdoor kitchen space with Urban Bonfire? TUBS will be expanding into kitchen and home products this fall with our exciting launch of t2h, which will feature Urban Bonfire's customizable range of products. For more information, book a virtual consultation with a brand ambassador.